Penny for my thoughts.
The Accounts team recently attended our first virtual conference and covered a lot of ground, but one subject that got my wheels turning was about the current landscape in our industry. We talked a lot about how we've evolved in Account Services from the Mad Men era, and how it's harder than ever to stay on top. But, what about this NEW era? Yes, our "new normal" - an exhaustive term I'm sure everyone is tired of hearing, but let's talk about it specifically for agencies.
Agencies live and die off their ability to communicate and collaborate. We thrive off of the energy of others (even the developers listening to death metal). Now, gone are the days of waltzing into each other's offices to bounce off new ideas. S'long Friday team lunches. Ta ta for now, in-person/impromptu happy hours. Au Revoir water cooler small talk (just kidding, we don't have a water cooler but we DO have a pinball machine). Without the chance to feel the energy in the room and goof off a bit, our ability to do great work is now hindered.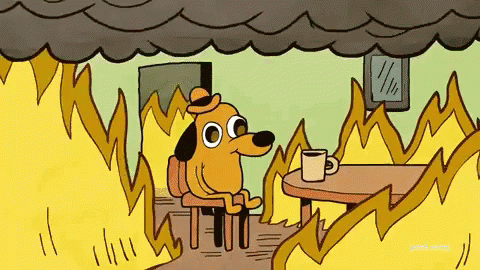 So, where does that leave us? Back in the day (years ago in 2019), working from home was an added recruitment benefit for any company. What an exciting thought it was to have a "flex schedule" and work from home on an as-needed basis. Now that it's the standard, a requirement even, we are close to begging for excuses to drop into the office (I CAN PICK UP THE MAIL!). We are separated by our machines, which has a ripple effect that stems way past missed happy hours. Now that we're six months into this, let's talk about some things that have and have not worked well for us in the #WFHera.
The Struggle
PRESENTING:

A common rule of thumb is to be in-person with the client as much as possible. Pitching any sort of creative over video chat has been a learning process. The art of mic-dropping to that slide with the new sexy logo is lost when you're scrolling through a screen-shared PDF that's slightly blurry due to someone's basement connection. Reading the room is harder than ever without eye contact and the affirming head-nod.

FEEDBACK: It is so important in the creative world to be face-to-face when you give feedback. How can you show empathy and excitement to your internal teams through your camera? Giving feedback both internally and externally over video/slack/younameit takes a bit of the human element out of it. I'll try a funny hat next time.
EXTROVERTS:

I'm sure the introverts can also relate here, but I really miss my work friends (let's just call them family). Whether that's jamming out to Vampire Weekend with Colton and Kelsey, a random pinball tournament, or just laughing until we can't breathe (right, Creatives?).

Mr. Brightside
CONCENTRATION IS KEY:

Now, while I LOVE my work fam, all that energy and excitement can make it hard to get work done. Sometimes

having that gift of silence is a blessing in disguise.

FAITH IN FLEXIBILITY:

A wise man [named Michael Hutzel] once said, "Don't be the bridge that crumbles when the earth moves." We may not be the biggest agency (I mean, a dog is our employee of the month), but it's important to be fast. I have to give a virtual high-five to my team and everyone in the industry, because we've done a great job of being flexible to clients' needs as they shift their business goals. And that leads me to my last point.

WE'RE ALL IN THIS TOGETHER:

Man,

I thought we were a close-knit team before this, but our relationships have grown much stronger as we've adapted as a team. We have a whole new bucket full of inside jokes.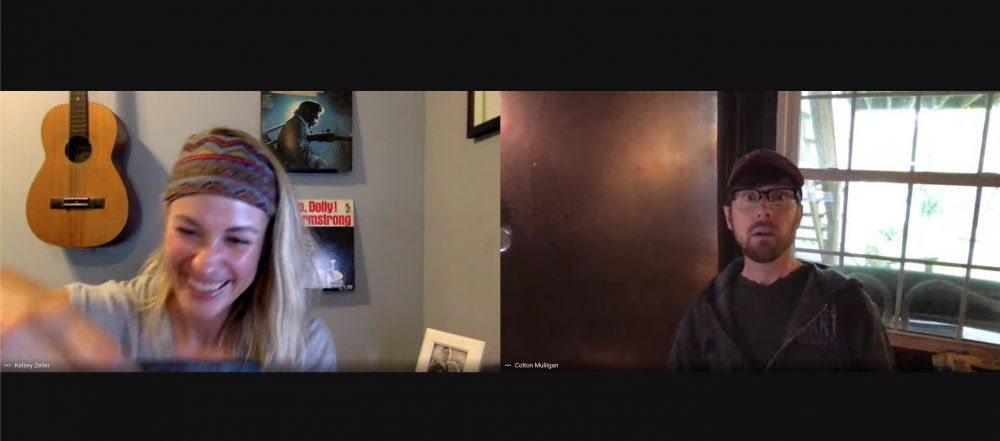 *Honorable mention to this frozen screengrab of Colton
So, what can we learn from the above?
Get your presentation skills solidified. Find the best avenue to share your screen, test it with others internally, and know who is discussing what ahead of time. We're in more of a rhythm now, but it was definitely a learning experience at first.

Give feedback over video or phone and avoid Slack if you can. We have our fair share of custom emojis, but body language and tone still don't come through in a conversation thread.

Don't be afraid of a virtual happy hour! I so look forward to Quiplash and Trivia Murder Party.
I digress. Today we're learning and growing in ways that we never thought we would need to. While we don't know exactly what the future looks like for the AE archetype in the agency world, we do know that our skills are still expanding and that we're still excited to be doing great work with people we love.
Rosie is both an Account Executive and a fancy Brit. She likes her Gin and Tonics with a splash of St. Germain, but the rivers of Tennessee are no match for her kayak and dry wit.