We're a young startup, we're a house full of creatives, and we're all friends. We spend 160 hours a month together which basically makes us roommates; these ingredients are a beautiful recipe for what could be drama, passive aggression, and general douchebaggery. In order to stay in check, and continually improve our collective Emotional Intelligence, we tend to focus on a new tool each year at our annual retreat.
This year, we dove into the depths of Radical Candor as a tool for communicating with each other, best exemplified on the occasions when folks disagree or need to offer feedback.
Rather than walk you through the history and nuances of the framework, we thought it best to share the practical application of Radical Candor. Here's a quick overview of the framework, but if you want a deeper dive, I recommend Kim Scott's Ted Talk here:
The short story is that you can break up all workplace conversation/feedback into 4 quadrants. The quadrants are determined by two factors:
How much do you care personally?

How much are you challenging directly?
The mix of options here leads to the 4 categories that all office communication can be sorted into:
Manipulative Insincerity: You don't care about the person and you don't speak directly.
Ruinous Empathy: You care about the person, but you don't want to hurt their feelings, so you beat around the bush, offering the other person no actual feedback or accountability. This is the equivalent of NOT telling someone they have spinach in their teeth or their fly is down.
Obnoxious Aggression: You are speaking directly regarding the person/problem, but you don't care about that person or their feelings. Blaming, shaming, and "brutal honesty" fall into this category.
Radical Candor: This is respectful confrontation with a fair balance of honest feedback, rooted in genuine care for the other person.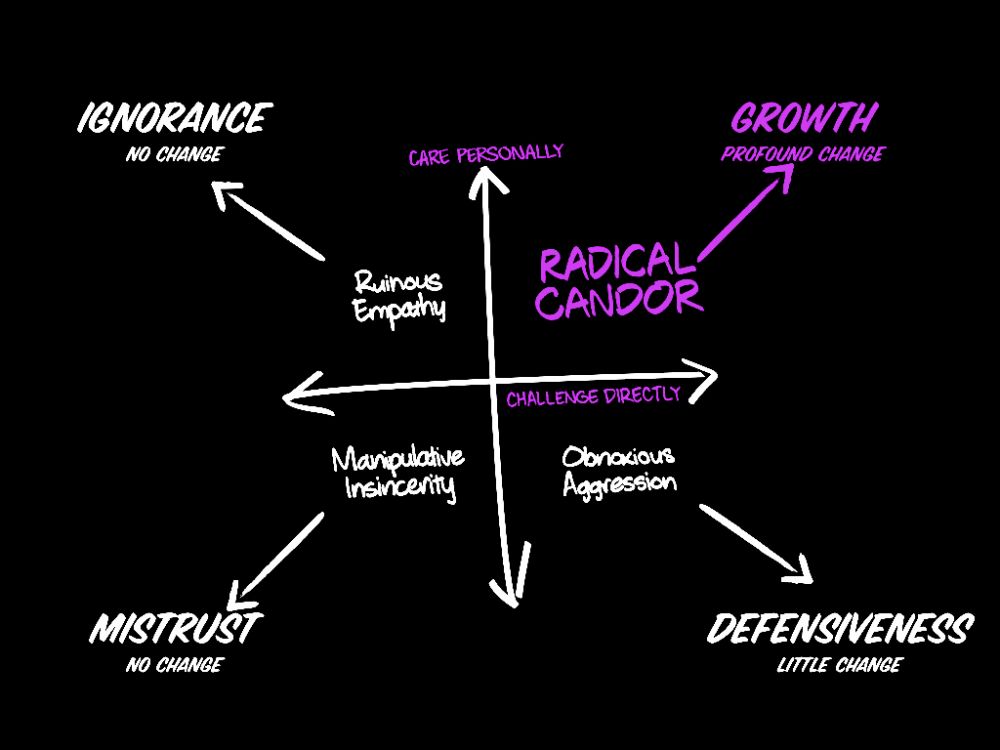 To make things practical, we took time to reflect on past experiences and projects that resulted in high tension/poor communication/hurt feelings and folks offered up the quadrant that they fell into during these times of conflict.
We learned that, under stress, most of our team will drift toward Ruinous Empathy: we don't want to call someone out for a mistake or we don't want to hurt someone's feelings with feedback that would otherwise help them in the long run.
Personally, I can drift toward Obnoxious Aggression, opting to 'tell it like it is' while forgetting to show the other person that I care about them and their success.
Reflecting on the past certainly helped to showcase that 'it's okay to disagree' while noting that there's a healthy way to do so. Now, in our smaller weekly meetings, we can check ourselves, in situations with clients or each other, to see if we're falling somewhere outside of Radical Candor. While no one is perfect, this framework provides us with common language to use as we disagree or provide feedback for each other, which makes for a healthier work environment. For us, it points back to why FoxFuel got started in the first place: "Do Great Work With People You Love."
Colton is the CEO and co-founder of FoxFuel Creative. He loves stories, and people, and sharing stories with people.