(Reading time - 3:00)
FoxFuel is running a company-wide experiment in time blocking to see if there's an impact on efficiency, culture, and overall happiness. Come along for the ride.
Why do time blocking?
a. Everyone works best if they can find a Flow State, especially knowledge workers and creative individuals. Flow State is something you should know about. It's when you are totally absorbed in a task with a feeling of euphoria and intense concentration. Flow state is ridiculously more productive, and your brain is able to make connections at a whole new level.
Even if you are just in a rhythm and not a true Flow State, interruptions still make you less productive. UC Irvine did a study showing that it takes 20-25 minutes to regain the same level of focus, even for just a brief interruption. So, you don't just pick up where you left off; you lost ground, and it's going to take time to get back into that headspace.
b. You suck at multitasking. You may claim you are good at it, but you are better than average at best. There's a mountain of science that says proves how the human brain is less efficient and more error-prone when multitasking. Scheduled periods without interruption cut down on the time you have to sit in a meeting, while also responding to email, or finishing a design project.
"Attention Residue" is the laymen's term for Distraction Drivers on your Residual Neural Network. Even after multitasking, or an interruption, part of your brainpower is wasted on the last task you worked on, rather than the task at hand.
c. Brains crave varied types of work. We all prefer different ratios of social time, quiet time, and focus time. By scheduling for different types of work, our hypothesis is that folks will feel less stressed and more empowered to determine what they need to work on, and for how long.
What we're doing.
We now have a weekly schedule that combines WFH/In-Office days, with dedicated days for collaborating / brainstorming, grinding, client meetings & presentations. Oddly enough this tends to fall along with our values with dedicated days to Dream Big, Have Fun, and Get Sh*t Done.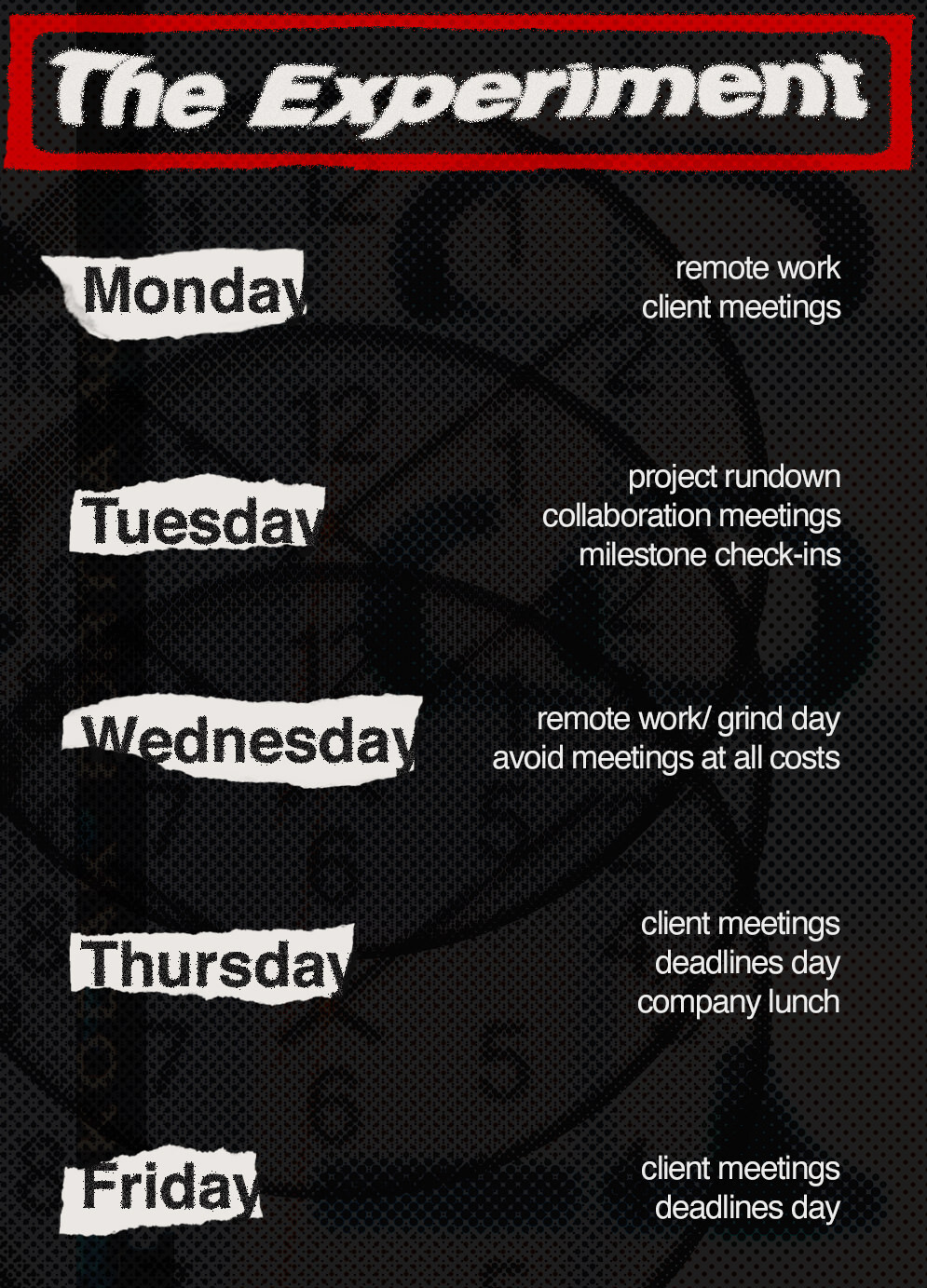 What we expect.
Sure, deadlines and efficiency are great for billings and productivity, but in the factors to consider to evaluate success, it'll also be happiness and culture.
We're knowledge workers and if FoxFuelers are happy, then we are all more efficient. The work is better, and honestly more time each week is spent on collaborating and bonding rather than grinding against a deadline.
We'll report back in a few months and detail how this goes. If you're a business owner or team leader, hit me up if you wanna chat about this more.
Colton is FoxFuel's CEO and Chief Strategist. He's the least organized of the team, but he spends the most time distracting everyone, so this whole experiment will be interesting.